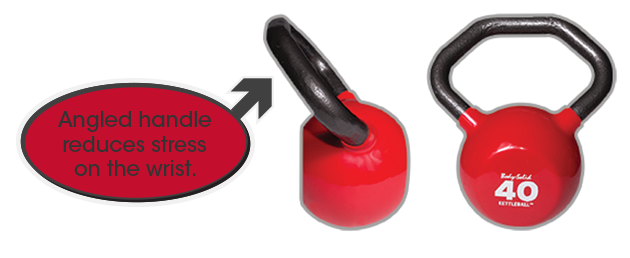 The Body-Solid Vinyl Dipped Kettleballs combines the benefits of a dumbbell and a kettlebell into one revolutionary product.
An innovative patent pending design includes a more stable and ergonomic handle allowing users to perform upright rows, bicep curls, tricep extensions and a multitude of core movements.
Focusing on safety, the Kettleball reduces unwanted stress on the wrist, elbow and shoulder making it perfect for both beginners and veterans alike.
With more safety, more control and added versatility the choice is clear — take your kettlebell workouts to the next level with the all-new Body-Solid Kettleball!
Features

Full-body conditioning. The body learns to work as one synergistic unit linked strongly together.

More muscle groups trained at the same time equals better results and spending less time in the gym.

Increased resistance to injury via a safer design and multi-functional use.

The ability to work aerobically and anaerobically simultaneously.

Improved mobility and range of motion.

Increased strength without increase of mass. (focus for women)

Enhanced performance in athletics and everyday functioning.

Major calorie burning
Body-Solid Vinyl Dipped Kettleballs
0 Customer Reviews
Average Rating
No reviews have been found.